Zeagle Ranger BCD review
A much imitated design classic: a dive with it reveals why
In the early 1970s a man called Dennis Bulin packed his car, said his goodbyes and left the chilly winds of Wisconsin behind for a new life in Florida to pursue his love of skydiving.
if you can't get comfortable in this BCD, there's probably something wrong with you
The sunshine state has water on three sides, and when he wasn't jumping out of planes, Dennis found himself diving and hanging out with the scuba divers he met. As an entrepreneur and inventor of skydiving equipment, it was a natural progression to apply the same thinking to his own equipment for underwater diving. Under the name 'Zeagle', Dennis's new products carried over some of the same construction methods, fabrics, features and innovations to the new sport of sub-aqua. His 'RipCord' weight-dump system is perhaps the best-known example.
Skydiving – even more so than scuba – is a sport that demands the highest standards of its participants, and that extends to the equipment they use. At 10,000 feet up heading down at 200 mph, a parachute quite simply has to work. Underwater emergencies may seem to play out more slowly, but the end result can be equally catastrophic. No surprise that Dennis's Zeagle products quickly acquired a good reputation for their build quality.
In the late 1970s, none of the standards we take for granted today had been conceived of, let alone formalised: Dennis was regularly told his ideas like the back-inflate jacket were 'dangerous' and 'would drown the wearer face-down'.
Almost 40 years on and Zeagle is still going strong. Among the current line-up, the Ranger (introduced in 1994) stands out for its particularly heavy duty construction.
This is a serious piece of kit, designed for a wide variety of diving applications and styles. The Ranger has a single horseshoe bladder constructed using pieces of extremely tough 1050 denier nylon. There are two tank bands to keep your cylinder firmly clasped, two accessory pockets and two integrated weight pockets, identified by their red zippers. RipCord itself has a wire threaded through holes in the bottom of the pockets – one tug on the red release handle will unthread this and send the lead to the 'bed.
The Ranger straddles a line between technical and recreational. Elements such the quick release breaking harness will put off techie purists, but they would appreciate the quality in the stitching and the materials used. Zeagle sells a separate kit to modify the BCD for mounting twin cylinders, and there's enough lift capacity (20kg) in the wing for doing so. You get eight sensibly placed stainless steel D-rings, twin rear dumps and a shoulder dump, and a cummerbund held in by grommets which can be removed and shifted across for adjustment. Frankly, if you can't get comfortable in this BCD, there's probably something wrong with you.
In common with other Zeagle BCDs, the Ranger also benefits from innovations like the screw-fit low pressure inflator. Ever wondered if the fresh water you're rinsing your BCD with is really getting inside where it's needed? Wonder no more: simply unscrew the end of the inflator unit and attach a garden hosepipe for a complete flush through.
Moving through the water, the Ranger is quite a large animal and I personally prefer using it with a larger tank (15 litre) or on deeper or more challenging UK dives. Used with a large single cylinder the horseshoe bladder keeps you in a good position and prevents any kind of roll, and everything is laid out brilliantly when you're reaching for a clipped on reel, camera rig or stage cylinder.
Zeagle may produce serious gear for serious applications, but that doesn't mean they can't be fun too – which is where customisation comes in: buyers can specify their Ranger with a wide range of different coloured panels. Want an orange bladder with pink shoulders? No problem, spec it up with your local dealer and Zeagle promise to deliver a unique rig within a 12 week lead time.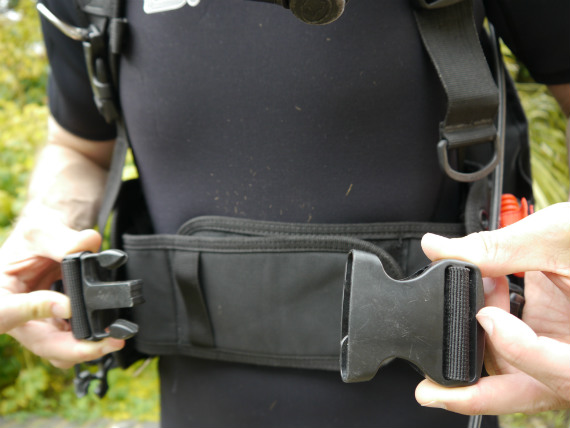 There are cheaper BCDs on the market, and if you just want a lightweight travel wing for blue water there are better options around (the Zeagle Express Tech springs to mind). But if you're the sort of person who mulls every purchase over at great length to 'future proof' your kit, the Ranger will give you versatility for years ahead. So it's worth the price tag: after all, you wouldn't jump out of a plane with a cheap parachute, would you?
For more info, see www.zeagle.com or visit the Zeagle UK Facebook page to find a dealer.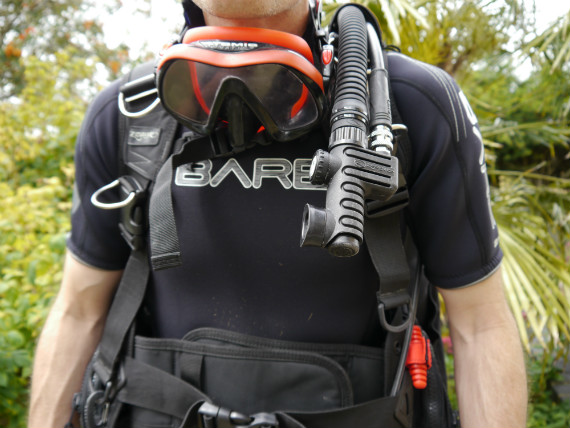 MORE Kit